Focus on
Christmas in Monferrato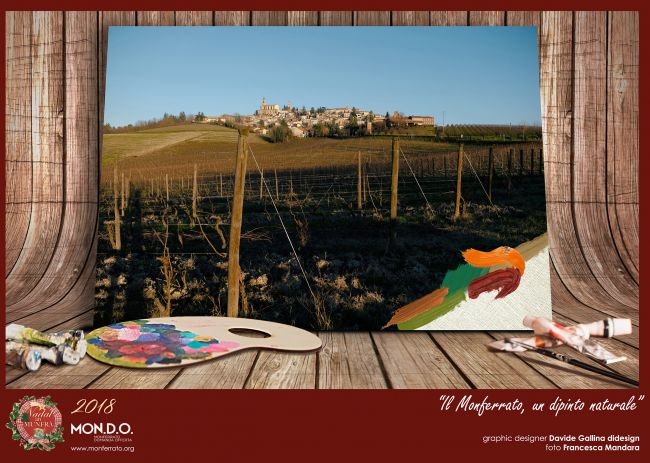 NADAL AN MUNFRÀ: IT'S TIME TO CELEBRATE!
Where is it possible to live the authentic Christmas atmosphere through markets, Nativity scenes, art exhibitions and many other events? Obviously in Monferrato where the container event "Nadal an Munfrà 2018/19" returns (at its eleventh edition) with many events until January 7th 2019 and beyond ...
In Casale Monferrato, for example, Christmas is breathed thanks to many moments contained in the festival that includes concerts and choirs, readings in libraries, festivals, living Nativity scenes, visits, workshops, theater shows, exhibitions, markets, tastings, torchlight processions and lots of fun " open air " in piazza Mazzini ice rink. To announce the atmosphere of the festivities, and, with it, the winter season, there is this year a Christmas image dedicated to Monferrato signed by the Monferrato designer Davide Gallina and the photographer Francesca Mandara.
AGIC WINTER IN THE VILLAGES BETWEEN HILL AND PLAIN
The arrival of winter between the hills of Monferrato and the nearby Po and Lomellina plains is accompanied by lights, sounds and Christmas scenes, as well as by many occasions to experience Christmas magic by visiting this ancient land. The villages will be welcoming thanks to representations of the Nativity, musical events, exhibitions ... without forgetting markets and many food and wine opportunities, also for suggestions about Christmas gifts characterized by typical craftsmanship and excellent food and wine. Relaxing days in which you can also live moments of taste and charm at the accommodation facilities of the area. The choice between appointments is wide (including even New Year's Eve) and not only adults but also children and families can experience exciting moments taking advantage of the many initiatives specifically reported in the context of Nadal an Munfrà.