Itineraries ** Section in update **
The Vignale Area and Infernots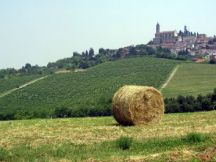 Where can you find fascinating panoramas, food and cultural attractions?
By visiting the zone of ​​Vignale, between the Unesco hills, the Alessandria plain and the Asti countries, an area that offers suggestive views of vineyards and the possibilities to visit numerous Infernots, the underground cavities realized in the local stone and now listed in the Unesco World Heritage. Places to admire for their enchanting views and architectural witnesses to be enjoyed for its wines, distillates and rich gastronomy but also thanks to traditional events such as the Festival of Dance in Vignale Monferrato and the Palio dell'Oca Bianca (the White Goose Celebration) in Quargnento.
The Parish Church, the Castle, the Callori Palace and the Infernot Belvedere are just a few of the obligatory stages in Vignale Monferrato.
A majestic parish and the roof garden of Bricherasio Palace dominate the ancient village of Fubine Monferrato, where you can also find many Infernots. The village is not far from Quargnento, where stands out the imposing Basilica of San Dalmazio and the House of the famous Artist Carlo Carrà.
An area that can offer you many opportunities, all to be captured.
----------------
For more information:
Tourist Information Office in Casale Monferrato
+39 0142 444 330
chiosco@comune.casale-monferrato.al.it
Opening times:
Monday* close
Tuesday* 3-6 pm
Wednesday* 10am - 1pm and 3-6pm
Thursday* 10am - 1pm and 3-6pm
Friday* 3-6pm
Saturday* 10am - 1pm and 3-7pm
Sunday* 10am - 1pm and 3-7pm

* Festivity 10am - 4pm
Resources that you can find on the itinerary